Inside the Bronze Plaque Manufacturing Factory
The 38 Step Process
Step 1

Sales and Accounting Dept

You order starts here on it's journey through 38 different processing stations until completion. First step for your order is to be sent to accounting to be processed. Then, your order is entered into the system and moves to the art department to create the art for your approval. After you approve your art it's converted to a vector file and sent to the polymer dept to make the mold to put into the sand cast.
Once the sand cast is made then the exciting part starts, bronze ingots are heated to 2600 degrees, not more not less, it's hot and dangerous with sparks flying everywhere. This process is repeated 20 hours a day 5 DAYs a week.
A sight to behold! As the molten bronze is being poured.
Step 2
Next stop is to pour the hot molten bronze into the sand mold.
This sand cast has just been poured with molten bronze and needs to cool as it moves down the conveyor belt.
10 DAY RUSH SERVICE AVAILABLE!
Conveyers move the product along to the individual station depending on the specifications
Step 3
For larger plaques up to 8 feet in diameter, weighing several hundred to a thousand pounds, a crane is used to move the plaque around the foundry floor.
Steps 4-38
Once the plaque is removed from the sand casting the plaque now starts its journey on the conveyor belt thru 35 different stations. At each station an expert will apply different finishing touches. Each station has the ability and the obligation to reject any plaque that is not perfect in every way. No plaque is shipped until each person who has touched the plaque has approved the quality and then passed it down the line.
The plaques are now ready to have the edges cut off and go into the final finishing stages
One of the finishing stations. It is very hands on to be sure there are no imperfections in the finished plaque
The mold is put into a frame and filled with sand . After compression the mold is cleaned before heading to the Molten Bronze station.
Jim checks out the imperfections on a plaque and makes a recommendation. He then is told to go back to the sales office where he belongs.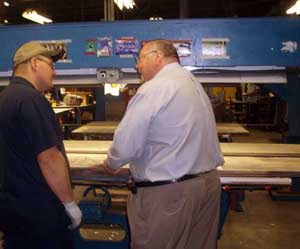 On one of the final stations the plaque is sanded to a high satin finish and then it is ready to go to the final coating area.
The sand is removed from the mold and the cooled plaque is put on track to finishing and polishing
Before polishing
After polishing
---
METAL LETTERS
10 DAY RUSH SERVICE AVAILABLE!
The FREE MOUNTING PATTERN is being inspected for accuracy.
This is where water jet cut letters are made. Large water jet machines are used for cutting letters and numbers.
Jim is going over the details of exactly how and where the holes have to be drilled in the letters; again he is told to go back to the sales office.
In the inventory area there are over a million dollars of metal stored at all times.
Etched plaques and photos are made in a sealed room complete with sulfuric acid tanks where hundreds of plaques a month are processed. No one goes in there without a mask and gloves as this is a sealed room because of the sulfuric acid in the many tanks.
Inventory levels are critical to meet the tight dead lines.
60" state seal mold. Each state seal mold is stocked in many different sizes.
Bronze 3D Military Seal 60" round.The finished product, for most plaques, in 15 DAYs means a happy customer.
Personalized Custom Bronze Outdoor Plaque Near Me Last 100 Years 100% Money Back Guarantee

Frequently Asked Questions by Jim - Sales Expert
Can I see the art before I order?
Yes, we will do art for your approval same day.

How long does it take?
15 working days after art approval is standard we offer a 5 day and 10 day rush service.

Where are you located?
Our executive office is in
Port Saint Lucie Fl. (no snow) Our foundries are in PA.,IL.,MN.,AR., GA. We ship all over the world and shipping is FREE.

Can you do this size?
Yes we can make any size you wish from 2"x2" to 120"x120" as 1 piece.

How do I attached the plaque?

This link will show all the options
Installation Options
.
How long will the plaque last outside?
We guarantee all our plaque to last outside 100 years.
If your question was not answered, email or call Jim now! He is waiting to answer all your questions.
We can create a Custom Plaque that is completely tailored to your specific needs and preferences
With no additional cost, whether you need a specific size, shape, border, or color, we've got you covered. Plus, our free shipping means that you won't have to worry about any hidden fees or charges. And the best part? All of the words you want included in your plaque are already included in the price - our cost is based solely on the size of the plaque, not the number of letters. Don't settle for a one-size-fits-all solution - let us help you create a custom plaque that truly stands out! CALL 772-924-0083 FOR AN INSTANT PRICE QUOTE
COMPARE THE DIFFERENCE
Compare the difference between Bronze Memorials Inc. and the other bronze plaque companies and you will see a big difference right away!
We have over 50,000 Satisfied Customers with more than 43 years in business. Art work in 1 hour or less, FREE! Our goal is to help you design a beautiful plaque, and WE DON'T MISS DEADLINES, at the very best lowest price, with the fastest deliver in the U.S.A. Bronze Memorials is the best company to make your plaque. It's Simple, Easy & Fast! Bronze and Aluminum Plaques have a lifetime 100 year guarantee. Our outstanding customer service, quality, and price is the real difference. We save you time and money with our personal, customer service, lowest price and fastest shipping in the USA. 5 Day Rush Service Available FREE ground shipping on orders over $1000. To all United States addresses including Alaska, Hawaii and Puerta Rico all military addresses around the world. We do not charge extra to ship to our military. We have a 100% money back guarantee. Easy to locate phone numbers 772-924-0083 WE ANSWER OUR PHONE - for 24 hour personal customer service from Us to you! Lowest prices guaranteed, we will beat your best price quote by 10%. We don't miss deadlines Instant Prices available to you.
Our Gallery with over 1000 Custom Plaques is testiment to our customer satisfaction, browse our site for your design ideas! We have been in business over 43 years and we are one of 1st bronze plaque companies to sell cast bronze plaques on the internet and have been doing so since 2005. We can make any size, shape, color plaque you desire and have been making Custom Bronze Plaques for more than 50,000 customers. We are a local company, just like being next door, order from your desk, deliver to your desk in as little as 5 Days. Bronze Memorials Inc. We are proud too say, 80% of our employees are woman. Order today, get next week. Simple!
READ OUR REVIEWS
---
NO COMPANY SHIPS FASTER
---
14 working days is standard production on bronze plaques, full color bronze plaques, photo plaques, 5 working days for rush service * FREE artwork, FREE shipping on orders OVER $1000, No company ships faster, FREE fast pricing Get a FREE price quote Don't miss your deadline? Plaque Presentation boards available with next day service, don't miss your deadline! Bronze Memorials will provide a full size bronze color presentation board matching your plaque design, and have the board delivered to you overnight express shipping, to meet your deadlines. Never miss a deadline again! Service is what we sell first! No charge for Custom Shape or Flat Relief Custom Borders! You can trust us
SIMPLE AND EASY, YOU TELL US WHAT YOU WANT AND WE SAY YES! BRONZE MEMORIALS IS THE RIGHT CHOICE!
You can trust us, Offices in Florida & Boston. Read what our customers are saying.
Payments available, credit card check, ACH, Mail, E-check, Paypal, Stripe
How to Make A Cast Bronze Plaque;
Steps 1 - 33

from Bronzememorials.net
Take a Peak inside the Bronze Plaque foundry and see how your custom bronze plaques are made.
Bronze Plaque Video
Video: Inside the Bronze Plaque foundry
Poured Molten Bronze in sand cast molds, see more photos.
---
MEET OUR TEAM
Mark McGrane
Sales Manager
Sales/Service
Mark is our Sales Expert and problem solver.
James Savage
Sales Assistant
Sales/Marketing
Jim is an expert in Plaques, Sales and Customer Service.
Tricia Sullivan
Managing Director
Marketing/Finance
Tricia is our Developer and Marketing expert.
Creative
ART
Danielle
Donna
Angela
---
Lowest Prices | Don't Over Pay | Buy Direct |

Fast 5 Day Service!

Unlimited Art Layouts in about one hour!
OUR PROMISE
We are here to assist you with any questions you may have. From our team of dedicated professionals we sincerely look forward to serving you soon. Bronze Memorials offers every type of Bronze Plaque imaginable including Memorial Plaques, Dedication Plaques, Painted Plaques, 3D Plaques, Color Photo Plaques and many many many more! We can design a plaque perfect for you.
Pressed for time? Ask about our Presentation Boards, deliverable same day or next business day.
WE DON'T MISS DEADLINES!
It looks like the real thing and is a perfect solution for ceremonies when you need it Now! Do not let the memory of your loved one get lost in the sands of time. Our compassionate and caring staff will create a custom plaque that will honor the life of your loved one for as long as Bronze will last. Although we cannot take away your loss, we can personally make sure that you get the best plaque at the best price. No order is complete until you approve the artwork and you say "it's PERFECT!"
OUR GUARANTEE
100% Money Back Guarantee | Lowest Prices on the Internet
We Guarantee The lowest Price On The Internet! If You Find A Lower Published Price From Any Competitor or Company we will beat that price by 10%
"You Are A Man Who Keeps His Word!"
Read More
Don't Over Pay Buy Direct
Bronze Memorials has over 42 years experience in business making us one of the
oldest and largest bronze plaque companies in the United States.
Trusted by:

The FBI | Homeland Security | The State Department | The US Department of Defense
Police Departments, US Embassies along with hundreds of other local government agencies.

BRONZE MEMORIALS DONATES MONTHLY TO THE WOUNDED WARRIOR PROJECT. (Donate Here) WE SUPPORT OUR MILITARY WHEN THEY NEED US MOST
• FREE Shipping On All Orders To All 50 States
- - - - - and Canada and All Military Bases
• FREE Art Work In About An Hour - NOT DAYS
- - - - - You can see your art before you order
• FREE Custom Shape - - - - -
• FREE Custom Border
• FREE 8 day standard production fast and fast 5 day rush service
- - - - - . WE DON'T MISS DEADLINES
• CALL Us we answer the phone 772-924-0083
• 100% Money Back Guarantee
• Guaranteed To Last Outside 100 years
• 100% Solid Bronze Not cheaper aluminum with faux finish
• Lowest Price Guaranteed - - - - - We will beat your best price by 10% to earn your business
• Safe & Secured Locked Website (https)
• TRUSTED 43 Years With Over 50,000 Satisfield Customers - Read Our Reviews
• SIMPLE AS 1-2-3 IT'S SIMPLE, EASY & FAST!
---